Article originally posted on www.dairylandinsurance.com

(opens in new tab)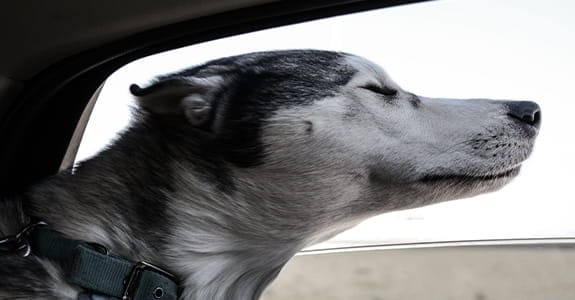 They say that every dog has its day, but considering dogs are known for their unending loyalty, unconditional love, comfort, and protection—they deserve more than one. That's why in 1928, a World War I veteran named Captain William Judy declared the fourth week in September as National Dog Week.
The purpose of this week is to celebrate the incredible contribution dogs make to enhance life—especially the human experience. It's also a week that focuses on making a positive impact in the lives of dogs, helping to return the favor for the gifts they give us every day.
Before you ride off with Buddy to celebrate, demonstrate your love for your dog—beyond belly rubs and special treats—by caring for his comfort and safety while riding in your vehicle.
Create a routine
Creating a routine when your dog rides in the car can help minimize confusion, create efficiencies, and maximize safety. Not only for your dog—but for everyone in and around your vehicle. Here are some things to do each time you ride with your dog:
Assign a seat: While it seems fun to adventure with your dog in your front seats, it's best to assign a special place for your dog in the back half of your vehicle. This protects your dog from driver/passenger-side airbag injuries and protects you from distractions.
Secure doors: If your vehicle doors don't auto-lock when you put your car in drive, make sure you lock them. This is especially important if your dog isn't traveling in an enclosure within your vehicle. With the doors locked, your dog can't accidentally open them and get hurt.
Check windows: Your dog might love riding with the wind in its face. If that's the case, be sure to maintain a safe opening that doesn't allow room to jump out if they're not restrained. If your car has window-locking capabilities, lock them in place.
Secure your dog
If your dog's like most, it will want to be glued to your side. So, sitting Lucy in the back seat and telling her to stay may not work. Here are some inexpensive gear options to help protect you and your dog by securing her in a specific location in your car:
Crate: You might already have a dog crate in your home. Use the crate in your car to keep your dog from roaming around. If your dog is anxious about traveling in the car, the crate—because it's familiar—can also provide comfort.
Mesh divider: If your dog's crate is too big and clunky, a movable, mesh divider is an easy option for creating a barrier between the front and back half of your car.
Doggy seat belt: Several types of restraints specifically designed for helping keep dogs safe are available. These attach your dog's collar, harness, or other equipment to a seatbelt in your car to ensure your dog stays in one spot.
These tips not only help to keep you and your dog safe while riding in the car, but they also help to build a greater foundation of trust and love between you and your furry family member. Now you're all set to drive to your dog's favorite sniffing spot, a doggy play date, or a fun pet store to honor your dog during National Dog Week. Stay safe and enjoy the celebration!
Related links
Dairyland cares about your continued education on the road. Check out our learning center for more safety tips, insurance information, and discounts.
Dairyland® is affordable insurance that works for you.
No matter what journey you're on, we're all driving down the same road. And we're here to help protect you when you need us most. For decades, customers like you have trusted Dairyland® for:
Car insurance
Motorcycle insurance
We offer customized coverage, money-saving discounts, flexible payment options, SR22s, and outstanding customer service.
Contact Blue Ribbon Benefits today to experience the Dairyland® difference for yourself.
Filed Under: Auto Learning Center
|
Tagged With: Auto Insurance, Car Insurance, Personal Insurance